Dreamers or Redeemers - a vote for the 2008 team
By: Rudy Sobelman - TLBR Milwaukee correspondent
A special thanks to TLBR for allowing me a platform to embarrass myself in trying to suggest that the 2008 "Supreme" team could actually enter the conversation of the 1992 "Greatest team ever assembled."
I am sure you will find my writing poor and my arguments weak, but that's my game.
Up until the 2004 Olympics, the United States had gone 110-1 in Olympic competition. (Okay technically, 109-2, but let's not count the 1972 Munich debacle.) And then Larry Brown and the 2004 team went 5-3 in Athens and brought home a bronze medal.
That was "shampooing" unacceptable and the U.S. decided to do something about it by hiring Jerry Colangelo to come up with a plan to win gold in China. Of course, they ignored the fact that Colangelo never won an NBA championship with the Phoenix Suns, but he needed something to do since he sold all his teams.
As a basketball junkie, I never thought I would see another team that would compare to the Dream Team, but this is the squad. Here is my breakdown of the roster:
Guards - Jason Kidd, Kobe Bryant, Dwyane Wade, Chris Paul, Deron Williams, Michael Redd.
This group of guards includes one of the greatest pure passers in NBA history (Kidd), the closest thing to MJ (Kobe), a healthy superstar who has a great all-around game (Wade), a point guard who should have been MVP last year and is putting up some of the best PG numbers ever (Paul), a solid young guard who is putting up 10+ assists a game (Williams), and a shooter in case you need him (Redd).
Forwards: - LeBron James, Carmelo Anthony, Tayshaun Prince, Chris Bosh, Carlos Boozer
You want one name? How about the bigger Oscar Robertson (LeBron), a solid scorer suited for international play (Anthony), a glue guy who just wins (Prince), the forgotten player of the greatest NBA draft ever (Bosh...and apologies to 1984), and Coach K's more seasoned Laettner (Boozer).
Centers: - Dwight Howard
This team is a little thin in the middle. Or are they? Did you watch the dunk contest last year or realize that Howard is still only 22? Scary. Very scary.
It is hard to publish stats on this team during Olympic play, as the numbers certainly won't line up against the 1992 dominance. This is a great collection of players, missing really only two players among the best in the world (Garnett and Duncan).
Without starting this little debate, point-counterpoint, I leave you with this. Excluding the USA roster, there are 30 NBA players playing in the 2008 Olympics. Spain has seven players in the NBA on their roster. The competition is much different than Dino Radja, Petrovic, Kukoc, Sabonis, and Marciulonis.
This team is dominating, beating the aforementioned team featuring seven NBA players by a final of 119-82, including a 32-0 margin on points off turnovers. I'll wait for the stat comparison when this thing is over. This is a team, not a collection of individual superstars and egos.
Bring it. I am ready for TLBR to crush me like a Barkley elbow on the helpless Angolan.
You want a thesis statement? In one game, the 2008 team would beat the 1992 team by running them off the floor.
Dreamers or Redeemers? 1992 is the winner.
On Friday morning (eastern time) the 2008 U.S. men's basketball team will head into the semifinal round of the Beijing Olympics, taking on Manu Ginobili and Argentina.
This year's Olympic squad, known as the "Redeem Team," has been romping over their competition. Through five games, the U.S. is 5-0 and has an average margin of victory of 32 points. Pretty solid, considering the team "won" the bronze medal in 2004 in Athens.
But it poses the question - would the 2008 team beat the 1992 team? Would the Redeemers cream the Dreamers? Would it be the '08 Stars and Stripers or the '92 Stars and Strippers (Patrick Ewing and the Gold Club say "hello.")
Welcome to a little U.S. Basketball point/counterpoint.
---
The 1992 team was a giant "shampoo you" to the world. It was our way of saying: we're America, we invented the game, and here's a little ass-whuppin' to make it clear. The closest margin of victory was 32 points (Croatia) and the average win was by almost 44 points per game.
The 1992 roster was perfect. It had superstars at every level and in every role. Head coach Chuck Daly summed it up best:
"It was like Elvis and the Beatles put together. Traveling with the Dream Team was like traveling with 12 rock stars. That's all I can compare it to."
The personnel:

Guards - John Stockton; Magic Johnson; Chris Mullin; Scottie Pippen; Michael Jordan; Clyde Drexler

Stockton is arguably the best point guard in NBA history (15,806 assists). About 15,805 of those went to Karl Malone. Chris Mullin ended his career as one of the best three-point shooters in NBA history. Clyde Drexler, at that time, was one of the most prolific offensive players in the league. And then you're dealing with three "one-name guys:" Magic. Michael. Scottie.
Forwards - Charles Barkley; Larry Bird; Karl Malone (who loves beanie babies); Christian Laettner

Barkley and Malone each re-defined the modern definition of the power forward. There is a one-namer in Larry. Laettner could have been replaced by me, and it wouldn't have made a difference.
Centers - Patrick Ewing; David Robinson
Patrick was a borderline one-namer. The Admiral was just beginning his solidly spectacular career.
The Stats:

Ri-god-damned-diculous. Some of the individual stats are crazy - Barkley's 71.1% field goal percentage, Mullin's 53.8% from three-point land, Jordan's 37 steals (in eight games...).
But the team stats are what really floor me. The team shot 57.8% (369-638) while holding opponents to under 37.0%.
They only shot 40.0% from the perimeter (54-135), but if you remove Jordan (4-19) and Drexler (6-21) who still had hops and didn't need to rely on a little below-the-rim stuff, the Dream Teamers were 44-95 - good for 46.3%.
From the charity stripe, the U.S. made 146 FT. Opponents ATTEMPTED 151. The rebounding margin was +13.5. The assist percentage was 64.7%. That means, 64.7% of the time, a field goal was tallied on a direct pass from a teammate.
This was a true team effort. Nine of the 12 players earned the start at least twice. Ten players played in all eight contests. Seven players had at least 14 assists. Forty-seven of opponents' 372 misses were blocked.
Those numbers are downright silly.
The accolades:

There are four Hall of Famers: Bird, Magic, Barkley, Drexler. Jordan, Malone, Robinson, Pippen, Ewing, and Stockton will be. Mullin might be. (Laettner has a slightly better shot than I do.)
But in short, I think the 1992 Dream Team would - easily - outdistance the 2008 Redeemers.
That's the thesis statement. We'll continue with the 2008 view, and then continue to support our argument(s).
Today's Secret Word
Remember Pee-Wee's Playhouse? When folks used to scream for the secret word?
If not, here's a little refresher:
All caught up? Good.
So Tiki Barber happened to use TLBR's secret word. Those of you who know us here at control know EXACTLY what that word is. It comes out at the most (in)opportune times.
One solid example of an INopportune time is when you're on live television, with your co-host and the face of American nightly news.
Yeah,
Tiki c-bombed Jenna Wolfe
.
Click here for the re-direct to Deadspin. And stay tuned for some actual writing later on today. We'll be introducing TLBR's first guest columnist/correspondent.
And we'll be point/counterpointing the shampoo out of the U.S. men's basketball team (which I'd be watching in my office, if it weren't raining in there...which is the perfect reason to use the aforementioned C-word...)
TLBR Exclusive Interview with Michael Phelps*
Shortly after Michael Phelps' record-tying seventh Olympic gold medal, TLBR sat down with the swimmer to discuss several hot-button topics
(* - yeah, it's fake)
-----
A:
-----
Q: Where do you think the best place to hide a pencil would be?
A: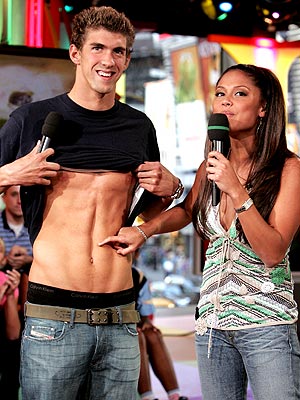 -----
Q: As a seven-time gold medalist at the Beijing Olympics, you've heard the National Anthem and posed for pictures seven times so far. By this point, is all the staged biting of the medal leaving a mark?

A:
-----
Q: Remember that scene from "Top Gun," when the Navy pilots sang "You Lost That Lovin' Feeling" to Kelly McGillis? Have you and your teammates ever tried that in karaoke?
A:
-----
Q: Did you ever try the old "oops, all I'm wearing is a towel" trick to get a girl's phone number? Because that works...

A:
-----
Q: In 1968, two US sprinters - John Carlos and Tommie Smith - used their medal ceremony to make a political statement. Can you do your best imitation of that?
A:
-----
Q: A lot has been made of the new Speedo LZR swimsuits and their aerodynamics. Are there any other technological advances in your equipment that you'll be using in the Water Cube in Beijing?
A:
-----
Q: How do you properly celebrate winning seven gold medals?
A:
-----
Congrats Michael. What you did was great. Not just in the pool, but also in the media. Mark Spitz can stop his '72 Dolphins act now.
And Spring Became the Summer...


Love the cameo from the chick with the backwards ballcap. Who is she, you may ask?
I'll let Steve Carell tell you...click here.