More Top Fives
The feedback - and the hit counter - after the first round of Top Fives was terrific.One reader even suggested that Chad Finn - the brilliant blogger who began the top five phenomenon on his website Touching All the Bases - and I go tete-a-tete with our lists. Another faithful reader wrote in to tell me he almost soiled himself at work reading the name "Pat Dodson." So many aspects of that trouble me.But I digress. If you have a category that you're dying for me to segment and rank, drop it in the comments or drop an email to headquarters at
tlbradmin@gmail.com
.Onto the lists:
Top 5 favorite 50 cent words/phrases
1. iambic pentameter
2.
edifice
3. didactic
4. existential
5.
Kiril Wachsmann
Top 5 favorite words/phrases by 50 Cent
1. Go shorty, it's your birthday
2. 'Cuz I'm a mother-shampooing P-I-M-P
3. I love you like a fat kid love cake
4. I dont fight fair, I'm dirty-dirty
5. Now take a look at how my lifestyle changed up; I'm on now, god damn it, I done came up.
Top 5 People I Don't Ever Want to Fight
1. Ray Lewis
2. Ben Wallace
3.
This guy
4. Mickey O'Neil (Brad Pitt as the pikey from "Snatch")
5. Mike Tyson
Top 5 Guys Named Steve I Don't Want to Play H-O-R-S-E with
1. Steve Novak
2. Steve Burtt the younger
3. Steve Blake
4. Steve Burtt the senior
5. Larry "Steve" Bird
5 People I'd like to have a my six-person dinner party
1. Soren Kierkegaard
2. Chris Rock
3. Bill Belichick
4. Scarlett Johansson
5. Richard Nixon
(first alternate:
Lindsay Jacobellis
; second alternate:
Bob Dylan
)
Top 5 Best Duos, in any discipline
1. Stockton and Malone
2. Simon and Garfunkel
3. Peanut butter and jelly
4. Martin and Lewis
5. Manny and Papi
Top 5 Trios
1. Tinker, Evers, Chance
2. Crosby, Stills, Nash (and Young)
3. The Kingston Trio
4. Run DMC
5. Ben Folds Five
Top 5 Ben Folds/Ben Folds Five Songs
1. Landed
2.
The Luckiest
3. Kate
4. Jackson Cannery
5a. Underground
5b. Tiny Dancer (yeah, I know it's not his, but they way he plays it, it almost should be)
Top 5 Underrated Domestic Cities
1. Buffalo, N.Y.
2. Kansas City, Mo.
3. Pittsburgh, Pa.
4. Tampa, Fla.
5. Burlington, Vt.
Top 5 Overrated Domestic Cities (that I still managed to have a few cocktails in)
1. Miami, Fla.
2. Los Angeles, Calif.
3. Bozeman, Mont.
4. Las Vegas, Nev.
5. New Orleans, La. (before Katrina)
Five Athletes I Wish I saw Live
1.
Emil Zatopek
(won the 5,000m, 10,000m, and marathon at the 1952 Helsinki Olympic Games. Here is a photo of
his wallet
.)
2. Michael Jordan
3. Jim Brown
4. Barry Sanders
5a. Bobby Orr
5b. Lance Armstrong
Five Athletes I'll Tell my Kids and Grandkids I saw Live
1. Pedro Martinez
2. Larry Bird
3. Lebron James
4. Haile Gebresalassie
5. Michael Johnson (when he simply dominated the '96 Olympics)
Top 5 things I'd like to experience winning
1. the World Cup
2. the World Series
3. Powerball ($365 million this weekend)
4. an Oscar
5. the Tour de France
Top 5 Chappelle's Show Skits
1. Charlie Murphy's True Hollywood Stories:
Prince playing basketball
2.
Samuel Jackson beer
3. When Keeping it Real Goes Wrong
4.
The Real World (Lysol gets me everytime)
5.
Wu-Tang Investments
The Next Five (because you can't just narrow down genius)
6. The Racial Draft
7. "
I know Black People
"
8. The skit with Dave, John Mayer, and the barbershop
9. Lil Jon meets Lil Jon (have you ever given yourself a stranger?)
10.
the entire Wayne Brady show
Top 5 Bill Raftery Sayings
1. Send it in Jerome! (all-time greatest call)
2a. Onions!
2b. Sets the puppies and a little NYLON!
3. A little nickel-dimer (aka "small change, Sean McDonough")
4. With the kiss! (aka "with the smootch!")
5. And Syracuse opens with the 2-3 zone...with man-a-man principles
---
Ok that's this round of lists. Chime in - the more interactive, the better.
Back to the Capital N, small y, big shampooing Q (Denis Leary, No Cure for Cancer).
To the next step...one.
Pimpin' All Over the World
It might be snowing like crazy and cold in the MKE, but I managed to pull off a nice sunburn on my face by the pool in Tampa.
Best to everyone in the Snow Belt and those who have to wear sweatshirts tonight. I'll be sure to call next week when I have whooping cough and the flu.
-----
On an aside, passed 40k on the hit chart, so a heartfelt thanks to all y'all loyal royal readers of the blog - the best damned left-hander this side of Bruce Hurst and the Gael trio of Burtt, McCullough, and Soliver.
As always, I am grateful.
To the next step...one.
Top Fives
I have links on the side of the blog here, because they're sites I enjoy going to. And I would wholeheartedly recommend them to you, as well.In perusing the links the other day, as I'm suffering from the dynamic duo of ennui and writer's/blog block, I saw
Chad Finn
did a series of top 5 lists, ranging from sports to movies to all kinds of other stuff.So since imitation is the highest form of flattery and most of my best ideas are stolen ones (and with Mssr. Finn's blessing), I thought I'd take a stab at it.Your comments, feedback, and lists of your own are more than welcome in the comments section, or by dropping a line at
tlbradmin@gmail.com
Onto the lists:
Five College Basketball Players I Loved Watching:
1. Billy Donovan, Providence (that 1987 Providence team is still one of my all-time favorite memories of my life.)
2. Steve Novak, Marquette (yeah, you can roll your eyes, but have YOU ever seen anyone get 41 and 16 on UConn?)
3. Hank Gathers & Bo Kimble, Loyola Marymount (My mom woke me up the morning after Hank died and I cried...couldn't even go to school)
4. Greg Francis, Fairfield (almost single-handedly made history with a 16 beating a 1 back in '97 vs. North Carolina)
5. Tariq Kirksay, Iona (see below...name something you can do on a basketball court. yeah, Freak could do/did it)
<-- Kirksay
Five Former Patriots that I Can't Cheer Against Unless They're Playing the Patriots
1. Drew Bledsoe
2. Jermaine Wiggins
3. Curtis Martin
4. Tebucky Jones
5. David Patten
Five Former Red Sox that I Can't Cheer Against....
1. Dave Roberts
2. Orlando Cabrera
3. Nomar
4. Pokey
5. Matt Murton (yes he counts)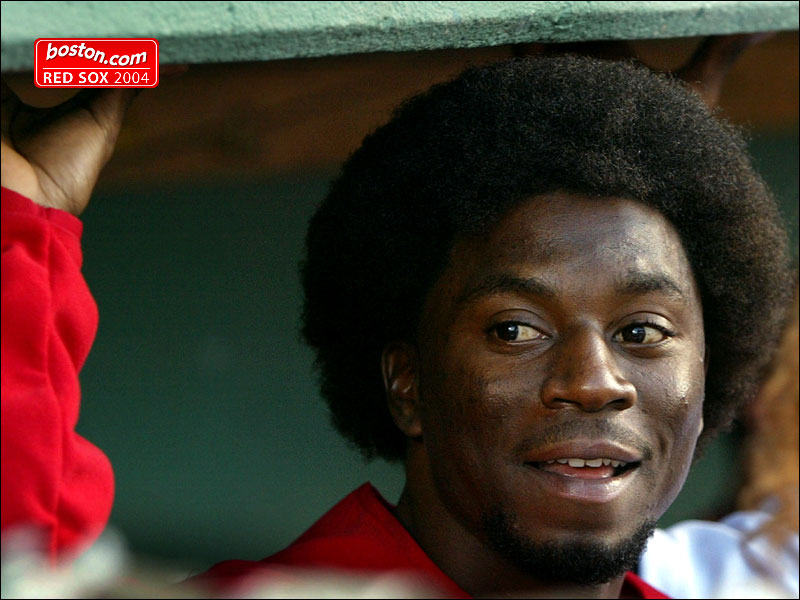 <--- Pokey
Five Former Red Sox that I Don't Have a Problem Cheering Against
1. Shea Hillenbrand
2. Johnny Damon
3. Doug Mirabelli
4. Carl Everett
5.
BK Kim
Five Best Songs in Scenes of modern movies
1. Garden State & The Shins' "New Slang" in the waiting room of the neurologist's office (it's Portman. her character might have more red flags than Tianamen Square, but still. it's Portman.)
2. Say Anything & Peter Gabriel's "In Your Eyes" (the backseat part when they first did it, not the boom box scene)
3. Anchorman & Neil Diamond's "Cherry Cherry" (right before Ron Burgandy told Veronica he wanted to be on her most...incredible...heiney...)
4. The Big Lebowski & Bob Dylan's "The Man in Me" (when The Dude was flying on the magic carpet)
5. Lost in Translation & Scarlett Johansson singing The Pretenders' "Brass in Pocket" (yes, with the pink wig.)
<--- Pink Wig
Five Best Songs in Scenes of classic movies
1. The Graduate & Simon and Garfunkel's "Mrs. Robinson" reprise as Benjamin is racing up and down the PCH to break up the wedding.
2. 2001: A Space Odyssey & Thus Spake Zarathustra
3. Easy Rider & Steppenwolf's "Born to be Wild"
4. Animal House & Sam Cooke's "Twistin the Night Away" (when Flounder and Sissy his steady girl walk in the door - and almost get hit with beers.)
5. Goodfellas & Tony Bennett's "Rags to Riches" ("hey ma, how do I look?")
<--- you look like a gangster!
Five Songs they Play on Heavy Rotation in Hell for reasons of inflicting torture
1. "Jive Talkin'" by the Bee Gees
2. "Crocodile Rock" by Elton John
3. The Grease soundtrack
4. The Grease 2 soundtrack
5. The Meatloaf discography
<--- The 7th ring of hell
Five CD's I want when I'm banished to Hell so I don't have to listen to the above list
1. U2's Joshua Tree
2. The Pogues "If I Should Fall from the Grace of God"
3. Public Enemy "It Takes a Nation of Millions"
4. Radiohead "OK Computer"
5a. The Smiths "Strangeways Here We Come"
5b. (recent addition) Death Cab for Cutie "Plans"
<--- Buy this album
Five Red Sox players that you love to name drop when talking old school with your drunk buddies for no other reason other than to prove you used to go to PawSox games or watch the really, really bad years, or studied the stats in the newspapers instead of doing homework that if you had done, you wouldn't be stuck doing your current job (whew, glad I got that off my chest)
1. Kevin Romine
2. Pat Dodson
3. Gary Miller-Jones
4. Rick Lancelotti
5. Rob Woodward
<--- I told you I was stealing Chad Finn's ideas..
.Five All-Time Favorite Former NBA Players from the 1980's
1. James Worthy, Lakers
2. Maurice Cheeks, Sixers
3. Dr. J, Sixers
4. Michael Cooper, Lakers
(in the effort of full-disclosure, I did not grow up a Celtics fan - I liked the Sixers and the Lakers, if you couldn't tell)
5. Bobby Jones, Sixers
<--- Jones
Next Five on that List
6. Jeff Ruland (yes, prior to working with him for the last 5 years)
7. Sidney Moncrief, Bucks
8. Akeem Olajuwon, Rockets
9. Rolando Blackmon, Mavs
10. Dominique Wilkins, Hawks
<--- Rules and Buddha
Five Best Jack Johnson songs
1. Do You Remember
2. News
3. Fortunate Fool
4. Holes to Heaven
5a. Fall Line
5b. Broken (off the new Curious George soundtrack - if you don't have it, buy it. now.)
Five Things Only Slightly Worse Than Watching the Winter Olympics in Turin/Torino
1. Watching poker
2. The X Games
3. A hour of paper cuts
4. Salmonella poisoning
5. Getting caned
<--- still better than ice dancing
Five Best Lines in Anchorman
1. Where'd you get those clothes...at the toilet store?
2. She used to be a Charger cheerleader before she broke her pelvis
3. We've been coming to the same party for the last 12 years...and in no way is that depressing
4. She was Brazilian, or Chinese, or something weird like that.
5. That was one crazy party..I am hung-over
<--- cannonball (that was 6th)
Five Places I've Never Been But Want to Go
1. Rome
2. Paris (France, not Hilton)
3. Rio
4. Maine
5. Vancouver
Five Places I've Been and Want to Go Back
1. Amsterdam
2. Hobart
3. Nantucket
4. Cork City
5. Honolulu
<--- Hobart
Five Places I've Been that I would move to
1. Sydney
2. Boston
3. Dublin
4. San Francisco
5. Washington DC
Five Places I've Been and Never Want to Go Back
1. Bozeman
2. Omaha
3. 3rd grade
4. Game 7 of the 2003 ALCS
5. Brisbane
<--- prick
---
Ok, that's the rub. Enjoy, come up with your own lists...comment on mine's...and make sure you have a good day.
To the next step, One.
That's A Giant Bunny
See, I told you.
Look at its damn paws and feet! It's like a bear with big ears and a cottontail.
But the scariest thing is the dude holding the thing: what, did Cliff Huxtable have a yard sale for his old sweaters?
Damn.
Oh, and add
this guy
to my list of folks I'd like to spend 10 minutes being. Rumor has it Rachel McAdams walked out on this photo shoot, making it just slightly less wicked awesome and stuff.
To the next step. One.
Worst. Super Bowl. Ever.
The only thing that would make this game good would be if Bill Cowher got some sense in that stupid chin of his and went into the locker room where all the former Super Bowl MVP's were, and asked Tom Brady if he wouldn't mind putting on a pair of shoulder pads and a Roethlisberger jersey.
Or if they cut to Suzy Kolber and Joe Namath, in his best Joe Paterno costume, grabs the sexy Seattle sideline reporter and slurs "my offer sssstill sssssstands, Sssssssuzy."
And Chris Berman in the Shaggy Dog commercial? Holy jumping the shark, that sucked. And Al Michaels referencing Lake Placid and the 1980 United States hockey team. Holy jumping the shark, that's pathetic.
Can't wait till the 70 year olds play halftime.
This sucks.
JD, BC, SB XL, DCFC...and twins!
Johnny Damon cried when he left the Red Sox
?
Seriously, what are you trying to do, JD? You're like the girl that dumps the one guy who loved her and then decides that she made a mistake and keeps calling, and stopping by, and saying that she misses you, wants to cuddle, but still is out there shaking her ass with other guys. (no, it's not from first-person experience. ok, yeah it is.)
It kills the guy, who in this stupid metaphor, represents the fans. The front office, well, they're just not that into you, Johnny.
"My kids had a hard time dealing with it," he said. "I kinda told them [I was leaving the Red Sox] and they cried,
and I cried with them
."
Either way, it's wrong. Cut the cord, Johnny. We don't need to hear about it. New Yorkers don't need to hear about it. And if you keep it up, both constituencies will let you hear about it. If you and your kids cried at the decision, then maybe you made the wrong one? Hmmm? Possibly?
Ask Troy Brown about those kinds of decisions. And then ask him to see all his championship rings. He's got two on you.
-----
If you're scoring at home, Shelden Williams of Duke committed a foul on the last play.
But if you're scoring in my home, it's the tree that fell in the forest that no one was there to witness.
I can't stand either school (although I do have a high level of respect for Al Skinner and hope that he lands on his feet wherever he goes and whatever happens). I was secretly hoping for a multi-overtime game that involved every player fouling out with the score tied. And on the last play - as two walk-ons were playing full court one-on-one, there was a double foul that counted as the fifth and disqualifying foul for both players.
-----
Ok, it's official. I hate Super Bowl XL. For so many reasons.
Top of the list right now is Joey Porter. What happened, Joey, did not get that big red bike as a kid? I believe the four-letter acronym is STFU. And by "F," I mean "shampoo."
Besides, from 6:30-8:30 Sunday, the 99th Millrose Games will be aired on ESPN2. And my guy
Richard Kiplagat
- he of the 2nd fastest mile in the WORLD this year - will be competing in the Wanamaker Mile against Bernard Lagat and the best distance runner of my generation, Kenenisa Bekele.
I had the honor to see Bekele race at the 2001 World Cross Country Championship in Leopardstown, Ireland. He won both the short (4k) and long (12k) course races and, save for an odd race right after the tragic death of his fiancee, has not lost since.
It should rule. So if you're sick of seeing promo after promo and shots of Bill Cowher's stupid chin, or any of Mike Holmgren's 75 chins, tune into the track.
-----
Stumbled on the entire discography of Death Cab for Cutie. So if the other 4,000+ songs on my iPod are feeling woefully inadequate, my sincerest apologies. I'm just getting through "Transatlanticism." Brilliant.
-----
In an update to an earlier blog post about how the "legendary" Taps Gallagher Center had not held that distinction since the O'Donohue twins patrolled the hardwood (pun sort of intended), this press release landed in my lap (double entendres are the flavor of the day).
Niagara University alumnae Becky and Jessie O'Donohue (Dobbs Ferry, N.Y.) are set to perform on "American Idol" on Feb. 7. The O'Donohue's were four-year letterwinners on the women's basketball team from 1998-99 to 2001-02.The O'Donohue's auditioned in Boston this summer and have already appeared on this past week's previews for the Feb. 7 show.Becky O'Donohue played every game (112) of her four-year career for the Purple Eagles. She finished her career averaging 5.9 points and 3.6 rebounds per game while shooting 40 percent from the field and nearly 75 percent from the free-throw line.Jessie O'Donohue averaged 6.8 points, 3.7 rebounds and 1.2 assists in 110 career games. She shot 31.5 percent from three-point range and 77.5 percent from the foul line.The O'Donohue's graduated with a bachelors of arts degrees in communications in May 2002.
Well, if they roar, I'll soar. Or something.
-----
Heading to Louisville this afternoon.
If anyone has any tips as to a good spot on Saturday night, leave a comment or drop a line at
tlbradmin@gmail.com
As always, enjoy your weekend, whatever it is you do and whomever it is you cheer for.
One.
The Answer about Practice
Found the link to the entire (old) Allen Iverson practice rant.
Now, it should be told that "The Answer" was one of my all-time favorite BIG EAST players. Top two or three (Billy Donovan and Lawrence Moten come to mind).
And he is probably my favorite NBA player since the days of James Worthy. So I'm not trying to poke fun at A.I.
But it's just great audio, really. So feel free to download the clip or just play it loud and remember,
we're talking about practice
.
If you don't want to talk about practice and would rather watch the a video of Japanese men combining Menudo with Brokeback Mountain,
then click here
.
One.