-----
A:
-----
Q: Where do you think the best place to hide a pencil would be?
A: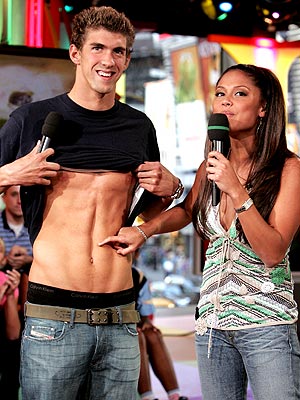 -----
Q: As a seven-time gold medalist at the Beijing Olympics, you've heard the National Anthem and posed for pictures seven times so far. By this point, is all the staged biting of the medal leaving a mark?

A:
-----
Q: Remember that scene from "Top Gun," when the Navy pilots sang "You Lost That Lovin' Feeling" to Kelly McGillis? Have you and your teammates ever tried that in karaoke?
A:
-----
Q: Did you ever try the old "oops, all I'm wearing is a towel" trick to get a girl's phone number? Because that works...

A:
-----
Q: In 1968, two US sprinters - John Carlos and Tommie Smith - used their medal ceremony to make a political statement. Can you do your best imitation of that?
A:
-----
Q: A lot has been made of the new Speedo LZR swimsuits and their aerodynamics. Are there any other technological advances in your equipment that you'll be using in the Water Cube in Beijing?
A:
-----
Q: How do you properly celebrate winning seven gold medals?
A:
-----
Congrats Michael. What you did was great. Not just in the pool, but also in the media. Mark Spitz can stop his '72 Dolphins act now.