It's Not A Vacation...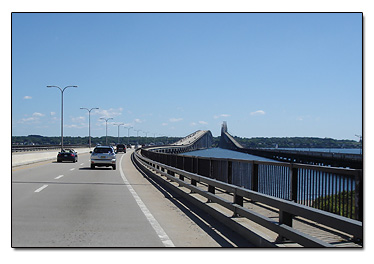 Coming down off the crest of the Rt. 138 extension at about 75 mph, the windows of the luxury vehicle are down, the sun roof open, the iPod cranking something by Robbie Williams, and one of the most beautiful sights I can imagine is coming into view.
The calendar reads Columbus Day - Oct. 9 - and the temperature gauge on the S60 reads 77 degrees. In a word: perfection.
If you could bottle it for a later Winter date, you could probably make as much as the two less-than-30 somethings who just sold YouTube for 1.65 billion.
It's a perfect Fall day in the great state of Rhode Island and Providence Plantations. My home. I live here now. Rhody's not a vacation anymore. (although, as far as the DMV, office of taxation, and MetLife knows, I've ALWAYS lived here...)
Since 1993 - my freshman year in college - I've lived out of state, for the most part. Four years down the road at Fairfield, followed by one year back in Providence, then seven in New York. Coming to Rhode Island was not a long trip mileage-wise or time-wise. It didn't take long to get here from there. And, generally, I never stayed as long as I'd have wanted.
This past year in MKE, it was sorta the same. Except it didn't involve driving up the Connecticut Turnpike, getting stuck in traffic from Greenwich to Branford. It involved layovers in Cleveland or Newark.
As for the summer - the season most Rhode Island-friendly - I spent five of the 12 weekends in God's Country for some reason or another. Whether a bachelor party, wedding, or simply just to surprise my Mom, I'd ride Orbitz, Hotwire, or Priceline as far (and as cheap) as it took me.
But while the trip home would always make my heart race, and the time spent here simply flawless, the flight/trip back would send me deeper into the hole. One time, the iPod karma hit me with
this tune
as the Continental flight zipped down the TF Green runway. Yee-ouch.
But it's home again. Home again, home again, jiggity-jig.
This past weekend, I got to drive the 25 minutes (it should be 40 minutes, but I drive wicked fast) to Providence to celebrate a friend's 31st birthday. That is, after I had dinner with my Dad, bumped into a good friend's parents at the restaurant, and had a Dunkin Donuts coffee (large hot, extra skim, one sugar) for dessert.
On Saturday, after some of the folks woke up with a slight headache (not for me, because the retirement governor is still intact), we played Grand Theft Auto for a few hours before getting something to eat on Thayer Street, and then I thought I might head home to shower and wash my tukkis. It was 5 o'clock or so...
Yesterday, I watched a Patriots game with my folks and ate a Thanksgiving-style dinner (maybe it was the turkey, stuffing, mashed potatoes, and cranberry that I probably should have had in lieu of the cheeseburger at the greasy spoon shithouse in Bozeman last November...nice planning there by the executive assistant...but I digest...)
These might seem like small things, but it's the small things that make the bigger ones possible. And the smaller things make the bigger things sweeter. When you neglect the smaller things, it can be best described as taking something for granted.
And that is something I'll never do again. I'll never take a lazy Saturday playing XBox, or a dish of General Tso's chicken at Seven Moons, or a Pats game, or going to the Ivy and realizing that the barmate was a high school classmate, or the two minute drive over Narragansett Bay as the rest of the sailing populous of New England glides by underneath...I'll never pooh-pooh that again.
Despite learning about it, and ultimately looking through it, I never realized what my ultimate concern was...what
my faith
was. I'm not a religious person, per se, but I know I am deeply rooted and tend to believe strongly in people, places, events, etc. Rhode Island is such a place.
These are my roots and returning here was my ultimate concern - not just for the past calendar year, but for the past decade or so. And now, it's no longer the temporary. It's not a vacation. It's home.
And I'm lucky.
---
TLBR once again has a heavy heart, this time for
Toledo basketball player Haris Charalambous
.
RIP.
-----
As you might expect, I have an opinion in regards to the speculation coming out of the Toilet in the South Bronx (the South, South Bronx). And that will be forthcoming at some point this week.
But here are three columns that are must-reads:
Adrian Wojnarowski
on how A-Rod should hit the bricks -- and --
Lisa Olsen
on how there is another baseball team in New York that is still playing games...on the field.
But
John Harper
took a stance that I had pondered in game three. Where is the Captain? Where is the true Yankee? Where is the purported American League MVP?
-----
The guys who own Google are in their mid-30's. They have 10 billion in the bank to play with. They bought YouTube for 1.65 billion. The guys who own(ed) YouTube aren't even 30 yet.
Excuse me, I'm going to go throw up.
-----
yh&os,