April 26
9:15 a.m. – Sunny day (again). Early rise to relax and read (again). Matty, who is supposed to arrive this a.m., texted to let me know he was running late (again).
I took a seat under a palm tree, by the water taxi dock, gazing out at the Caribbean Sea. The water is breaking about 500 yards out on a coral reef. There's a bell windchime dinging in the distance. I've got a hot, fresh cup of Guatemalan coffee. The breeze is blowing through my hair.
If you're thinking that I'm composing some poetry, I'm not. It's just simple observation and summing up the surroundings. As flowery as it may seem, it's some insight into Caye Caulker.
Hard to believe things are wrapping up on this trip – a rather glass-half-empty view, but it's true. Thursday, I go back to work. Overall, it's been a successful trip, with regard to clearing my head and relaxing.
While I'm not sure what kind of "renewed focus" or inspiration I've gained – you can stick that mumbo-jumbo where the sun doesn't shine. I'm too busy doing nothing in a place where the sun shines until it doesn't – and all in perfect view at the Lizard.
Perhaps that's the new focus I've gained: the end of the quixotic view of my career. It's a job, not life, despite the relative lack of the latter in contemporary terms. It's what I do, not what I
am.
1:06 p.m. – TBS is showing the movie "Groundhog Day," which is funny. And ironical. The last three days for me have been exactly the same, save for the "I Got You Babe" playing on the radio alarm clock every morning at 6 a.m.
5:11 p.m. – Got a little bit of sun today. Forgot that SPF 4 isn't as strong as SPF 15. Matty got in around 2:15, just in time for us to make the short trek from the dock to Lloyd's to see the Patriots select Jerod Mayo.
Ordered up a little American meal and could hear the rockets' red glare and the bunches of bombs in the air when we got our wings, cheeseburgers, fries, and beers while the NFL Draft was on. America, Shampoo Yeah.
On the topic of red glare – I got some sun today. Did I already mention that? And I'm headed to the Lizard for the Sunset thing. Sorry, Groundhog Day.
9:18 p.m. – Back to Lloyd's for a few drinks and dinner, then to the Oceanside for karaoke night and the Caye Caulker dance party. I'm starting to fade a bit, as the sun zapped me pretty good. I'll find a second wind. I've…got to, mister.
Lloyd's is your typical sports bar. Lots of sports shit on the walls, NHL (it is a Canadian place), and t-shirts from different teams, all signed by the folks who "donated" them. I must send a shirt from the current place. We need some rep down there.
The Oceanside (or is it Oceanview? I have no idea) has a sand floor, a larger wooden square in the corner for dancing, some pokeys in the other corner, and some cheesy signs behind the bar. (example – a play on Dr. Seuss with "Slammed, I am.) This place – or any other bar, for that matter – can't hold the proverbial jock of
TC's Lounge
in the Hub. But I digress.
I'm an unabashed fan of karaoke nights. I've even been known to perpetrate some vocal stylings from time to time. But what I love the most is the sheer, unadulterated material it provides me. The snarky, cynical, sarcastic side of me comes out in full force. So buckle up.
9:23 p.m. – Someone just sang m-f "Sweet Caroline." Followed by…John Lennon's "Imagine."
I hate the 8th inning at Fenway Park, when 37k Mass-holes sing that g-d m-f song, and they turn down the volume so the folks who got to the beer vendors a half-inning earlier can slur "SO GOOD…SO GOOD…SO GOOD" loudly with the rest of the folks in the bleachers.
On the topic of "Imagine," I remember vividly being at the Rock n' Roll Hall of Fame in 2001 when they had a fantastic exhibit on John Lennon. It began with a paper bag from the hospital, tagged with Lennon's clothes at the time of his shooting. It also had a pair of round, blood-stained, wire-rimmed glasses. Quite moving for the first part of the exhibit.
Throughout the displays, most of it donated by Yoko Ono, it was one amazing thing after one amazing thing. (example: Lennon wrote "Across the Universe" on the back of an envelope.) And throughout the time in the hall, they played classic Lennon tunes.
But when it got to "Imagine," it was near the end. Everyone in the hall stopped what they were doing and looked around at each other. I filled up. My g-f at the time did too. Chain reaction. Niagara Falls. I think of that moment every time I hear the song.
Except for the time that the karaoke DJ in at the Oceanside/view sang it. I still wanted to cry, but for a whole bunch of different reasons.
9:37 p.m. – Cue up the "Junior Prom Night" portion of tonight's karaoke presentation. "Wonderful Tonight," followed a large Samoan woman (is that redundant?) singing a country music ditty called "Sad Movies Always Make Me Cry."
One of the inexplicable Belizean traditions is their love of bad American country music.
9:41 p.m. – I had to use the restroom. And in my time in the loo, a wounded jackalope entered the bar and put Whitney Houston's entire catalog on queue. "Saving All My Love," followed by "Where Do Broken Hearts Go."
After a second bullet hit the wounded jackalope, it went straight to "I Wanna Dance With Somebody."
9:57 p.m. – Spider (my name for him), the toothless bar vagrant from Lloyd's, went back-to-back and belly-to-belly with "New York, New York" and "After the Lovin'." (file that under "shit you just can't make up). He is much better at crooning than he is at flossing. About nine other Peace Corps volunteers had made a weekend trip out to Caulker, and met up with Matt and me. Good folks. Call it "shore leave" for the kids.
10:11 p.m. – Couples only for the next 20 minutes… Someone sang a rendition of "My Heart Will Go On" so bad, the bartenders turned on the television so people could watch "Real Sex" on HBO. Caye Caulker had just become Mos Eisley.
After that, a gringa sang the Lonestar wedding classic "Amazed" and did a nice job with it. I think if someone sings "In Your Eyes," I'm going to find a fat-bottomed girl to slow dance with. They do make the rockin' world go 'round, you know.
10:33 p.m. – A dreadlocked local is absolutely killing on Bob Marley's "War." Matt says to me, "wow, he's good." My response, "well if this was H-O-R-S-E night, LeBron would be pretty good, too." I'm not sure if that's insensitive, but it sure seemed funny at the time.
10:39 p.m. – Ten Peace Corps volunteers in a bar and "We Are the World" comes on. No, there's no punchline.
11 p.m. – What's worse than hearing "Sweet Caroline?" Hearing it twice.
11:10 p.m. – Welcome to the Luther Vandross hour. Nothing like "Dance with My Father" to just get the bar into a frothy effing frenzy.
11:26 p.m. – The Swedish Bikini team is belting out some Abba tune. Stockholm, stand up.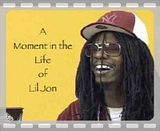 12:08 a.m. – The DJ turned down my request to do a Lil' Jon song. Said the queue was too backed up. I just don't think he could've handed me doing "Get Low."
I'm not sure I could've handled it. But I'd have given it the old college try…from the window, to the walls.