A:
-----
Q: Manny, let's play a little game of "Name That Tune." The song I'm thinking of is a 70's disco tune by four demographically diverse homosexual men. The song is a favorite of Derek Jeter and Yankee groundscrew people. What is the first letter of the abbreviation in the refrain?
A:
-----
Q: When you become a free agent this offseason, how much of a chance is there that you'll return to the Sox?
A:
-----
Q: There were times when you played the outfield that you made embarassingly bad plays. Once such play came recently in Anaheim. Can you think of anything more embarassing than falling down, then rolling over a ball in play?
A:
-----
Q: Your batting helmet has always been one of the more disgusting on the Red Sox, covered in stick-em and pine tar. Has that ever caused a problem for you with an at-bat?
A:
-----
Q: Can you show me your "dead sexy" pose?
A:
-----
Q: What can you say to your critics in Boston who thought you didn't care or didn't play a good left field? How do you plan on changing your style of play in Dodger Stadium, without the Green Monster behind you?

A:
-----
Q: Can you think of any other Boston athlete, beloved by his fans due to his performance in the postseason, who was so quickly excoriated and run out of town?
A:
-----
Q: You were recently almost cited for jaywalking in Seattle. Have you ever had any previous close calls trying to cross the street?
A: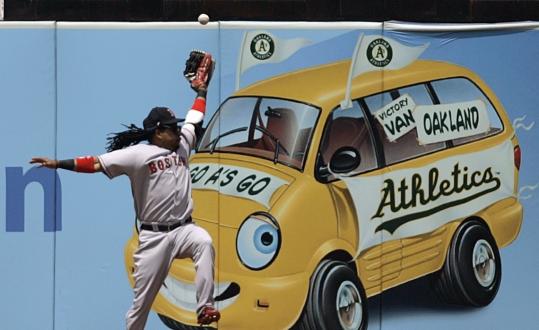 -----
Q: During the lead-up to the trading deadline, you were rumored to be going to the Florida Marlins. Hanley Ramirez is a good friend of yours; are you close with anyone else on the Marlins roster?
A:
-----
Q: California girls have sayings which have taken to becoming trends, like "whatever," "that's hot" or "gag me with a spoon." Can you show me your best "talk to the hand?"
A:
-----
Q: You're argubly the second or third most popular athlete in L.A. now, behind Kobe and David Beckham. Can you give me your best Becks impression?
A:
-----
Q: In some of your final comments as a Red Sox leading up to the trading deadline, you commented that you wanted "peace." You're a Dodger. What does that mean to you?
A:
-----
Best of luck Manny. Sorry it had to end, but it needed to be done.
Thanks for a hell of a ride.
You're a gangster.